On the inaugural flight from Amsterdam to New York, we tested the brand-new KLM Premium Comfort Class on the Boeing 787-10 as well as the KLM Crown Lounge 52 at Amsterdam Schiphol Airport.
KLM has a large, worldwide route network and flies from Amsterdam to 174 destinations in 69 countries. From Germany, the Dutch depart from 10 airports to Schiphol.
This airport has been regularly expanded over the years and is currently under construction. Transferring is easy, signage is adequate, but there are also large, easy-to-use touchscreens at regular intervals to find your way.
Via self-service kiosks to the non-Schengen area
Anyone with a destination outside the Schengen area as their destination from Amsterdam, who has a biometric passport can use self-service machines to gain access to the intercontinental area. The waiting time in front of the machines was less than 5 minutes for me on both outbound and return flights with KLM Premium Comfort Class.
After this control process, a world of cafés, restaurants, clothing stores and the like opens up, but also a number of airline lounges, of which by far the KLM Crown Lounge is the largest and most casual (also trades on plans only as Lounge 52!).
The KLM Crown Lounge 52
For KLM Premium Comfort Class flyers, access is not included, but can be purchased either online or on the spot. Online lounge access costs 55 euros, on-site 65 euros. For Business Class customers as well as Flying Blue Platinum, Gold members and SkyTeam Elite Plus passengers, lounge access is free. Purchasing with miles is also possible, by the way.
Incredible lounge size astonishes
From 4:45 a.m. to 10 p.m., KLM offers an incredible 6,800 square feet of everything you need for an extended transfer layover. There are 20 showers, which can be reserved free of charge from KLM employees or via the KLM app, and sleeping cabins, which cost extra but can also be paid for with miles.
In addition, the Crown Lounge offers hundreds of seats not only at tables for working, but also on comfortable couches and armchairs, the sides of which are pulled up so high that you almost feel as if you are protected in a shell. Several buffets offer hot and cold food as well as a wide variety of drinks. The lounge is astonishingly large and flooded with light, as one complete side with panoramic windows opens up to the airfield over what feels like 100 meters in width.
KLM places a lot of emphasis on customer feedback, and it came to light that guests would like a balcony with seating. In the upper part of the two-story Crown Lounge, there are therefore two balconies docked to the stylish bar area and open to the airfield, where your can enjoy the warmth of the sun or drink espresso.
Food from a star-rated chef in "Blue" restaurant
The "Blue" restaurant on the second floor is also unusual. The dishes, which have to be paid for separately, are created by star chef Joris Bijdendijk and are prepared using only local ingredients. If you want to dine in style before your flight, take some time to enjoy the excellent cuisine and dine with a view of the apron.
Off to the first flight in KLM Premium Comfort Class
Eventually, however, it is time for our flight KL645 to New York JFK. As a guest of KLM Premium Comfort Class, I can take a handbag and two carry-on bags in addition to two check-in bags and am part of the preboarding of the Boeing 787-10.
While the Business extends forward from the boarding and galley, the Premium Comfort is housed behind the galley and separated from the Eco cabin with privacy screens from floor to cabin ceiling. This creates quiet, privacy and more than enough space in the upper storage compartments. Check!
28 brand-new seats are arranged in seating 2-3-2 in four rows. By November 2023, KLM will have equipped all Boeing 777 and 787 aircraft types with the new KLM Premium Comfort Class in a multimillion-euro investment program.
Customers wanted a new class
In customer surveys, KLM had found that travel behavior had changed even before the pandemic. Companies are more cost-sensitive, but still want to offer their employees the opportunity to work and relax before their deadlines at their destination. More discerning private individuals are also looking for more comfort, peace and quiet on their way to their vacation, but they don't want the price of business class either. Ergo: A new class was needed to close the gap between Eco and Business.
Positive positioning also in terms of price
But the KLM Premium Comfort Class not only stands on its own two feet in terms of service, catering and space, it is also sensibly positioned in terms of price.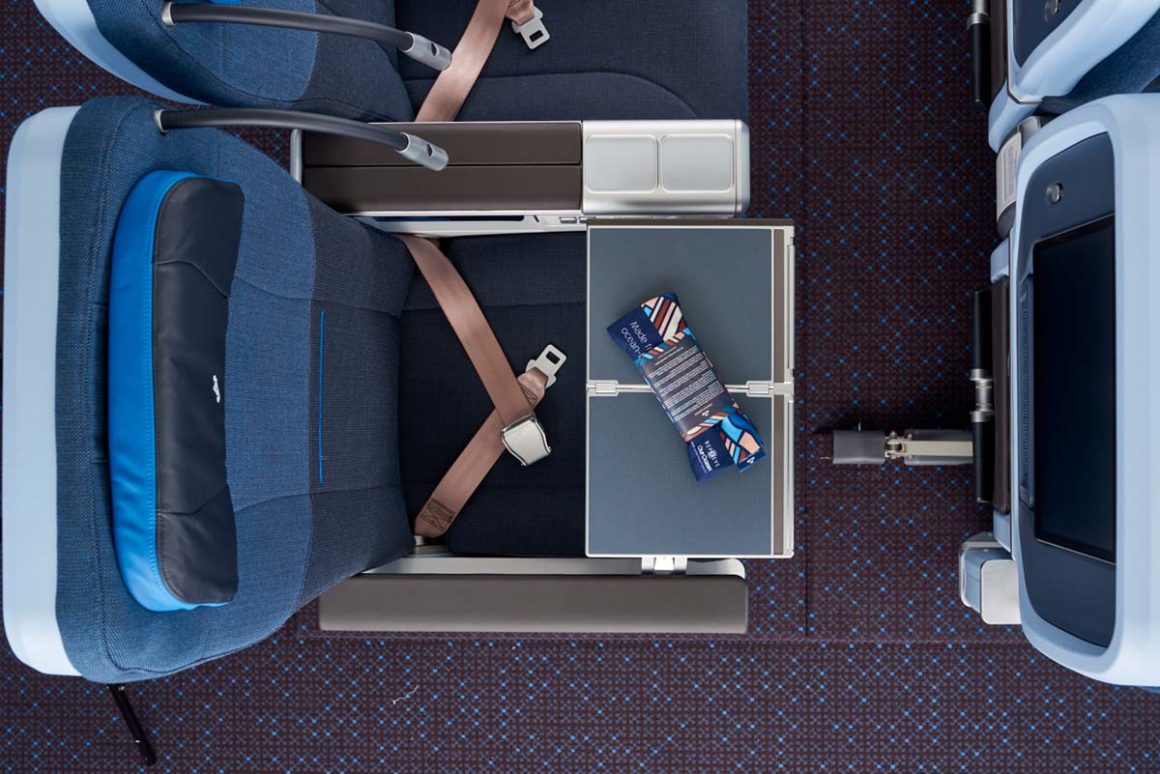 As a rule of thumb, you pay about four times as much for a Business Class ticket as for an Economy ticket, while KLM Premium Comfort Class costs only about twice as much as Economy Class.
Enough comfort even for taller people
And even the first impression is positive. The seats are in restrained shades of blue and ergonomically shaped. The height-adjustable headrests also fit people significantly taller than 180 cm and have a folding mechanism on both sides that holds the set position sustainably throughout the flight. This prevents the head from tipping uncontrollably to the side while sleeping.
Legroom as a gamechanger in KLM Premium Comfort Class
The comfortable and light seats are not only very ergonomic and pleasantly upholstered in terms of hardness, they also have an extendable calf support in addition to the footrest, which improves the seating position. But they also have a distance of an impressive 96.5 centimeters from the front seat, which is almost 18 centimeters more legroom than an economy seat offers.
And that, together with a veritable seat width of 50.8 centimeters, is exactly the centimeters of difference between "Hard to bear" and "Wow, enough room to stretch out comfortably." Incidentally, even when the front seat is fully reclined. In addition, a calf support increases comfort.
In this context, I also noted positively the screen, which, in contrast to the vast majority of competitors, can be tilted considerably, allowing an optimal viewing angle even when the front seat is reclined to the maximum, which is 20 centimeters in the new KLM Premium Comfort Class. By comparison, the standard in Economy is between 12 and 16 centimeters. That, too, makes a significant difference in comfort.
Large screen offers media fun
But not only is the angle of inclination sufficient, the screen has a diagonal of 33.8 centimeters, making it one of the largest in Premium Eco Class.
The noise-canceling headphones you get in KLM Premium Comfort Class seal off very well and offer clear sound, the selection of movies, games, audiobooks and TV series is large, menu navigation via the touchscreen is simple, as is dialing into the Dreamliner's WIFI via a QR code scan.
KLM offers 60 minutes of free messaging on intercontinental flights, allowing use of messenger services or text messaging.
To be able to surf, chat and receive e-mails freely throughout the flight, the "Surf Pass" can be purchased for 18 euros before or during the flight. The connection worked reliably and quickly.
Clever solutions around the seat
The KLM Premium Comfort Class team has given some thought to the storage space around the seat. The result is some clever solutions: In order to maintain the usable seat width and leave the footwell free, deep recesses were created in the armrests where headphones can be stored to save space and there is also room for a water bottle.
On many airlines, the water bottle is inconveniently placed in a compartment in front of the seat back, and while reaching for it, you can easily knock over a drink standing on the backrest. This is exactly what the KLM variant cleverly avoids.
Equally intelligent is the sweeping shape of the backrests and the only narrow gap between the seats, which increases privacy. Looking at the laptop from the ohne in front is thus a thing of the past.
The KLM Premium Comfort Class even offers more charging ports than the Business, namely 2 x USB and 1 x 110V.
Incidentally, the fully retractable armrests are also good, because that increases the seating area, and together with the good angle of inclination, I spent two hours sleeping peacefully. The pillow is soft but not particularly large, the blanket very long and pleasant to the touch.
How does it taste in KLM Premium Comfort Class?
On the flight to New York, there is the main meal and a snack before landing. It's served on recyclable and reclaimed tableware that still leaves a high-end impression. The beverage list in KLM Premium Comfort Class includes three different types of wine and two types of beer, harder spirits and, as a cocktail, the Bols Espresso Martini.
In addition to appetizers and dessert, there are three main courses to choose from, including a vegetarian option, on our flight beluga lentils in harissa sauce with smoked paprika, zucchini and a spinach madeleine. However, I opted for the potato salad with marinated vegetables, salmon and green asparagus.
The asparagus and potatoes had bite and were pleasantly seasoned, the salmon tender and slicable only with a fork. The appetizer was grilled chicken breast fillet with nut salad and mango hummus, served with mild honey goat cheese with blue cheese and grapes.
Culinary fancy was the spicy but tasty mango hummus, which went well with the chicken, but also the rolls with dried olives and tomatoes.
About 90 minutes before landing, a mixed salad with smoked almonds, beetroot, pickled tomatoes and falafel bites with paprika compote were served. The falafel and red bell pepper compote were well-balanced in seasoning, but the salad came without dressing and caused frowns. This could have been due to the first flight and was taken as a point of criticism by the very friendly and competent cabin staff.
Sustainable Amenity Kit
Brushing your teeth after a meal and then closing your eyes? The amenity kit developed with Repreve Our Ocean just for KLM Premium Comfort Class helps.
It comes in a net made from reycyling material (mainly former plastic bottles) and includes earplugs, pens, a sleep mask made from recycled materials, a compostable toothbrush, and a small paper bag with two scoops of toothpaste. It's thoughtful, saves resources and is also useful after the flight, as the amenity net is large enough to take to the grocery store, or use as a shoe net.
Summary
The new KLM Premium Comfort Class offers excellent value for money. The details are well thought out and trimmed for sustainability and comfort. For flights of up to 9 hours, the new class is perfectly adequate, even for tall people, compared to Business Class.
Info and booking
For more information on the route network and special fares, visit KLM. If you want to compare the KLM Premium Comfort Class with the other classes, you will find it here.
Interested in more airline reviews? Click here for reviews of Singapore Airlines' Premium Economy, Swiss' First Class, Turkish Airlines' Business Class or Air France's Business Class.
Pictures: KLM (8), Thomas Linkel (8)