The Maldivian five-star resort "Cora Cora Maldives" opened its doors in October 2021. And from the beginning it was almost fully booked. This review might give an idea why …
It's freedom time, promises the "Cora Cora Maldives". Yes indeed: the brand claim refers specifically to Corona, says Nadin Stevens. She welcomes me at the resort's jetty after a stunning 45-minute flight in the seaplane. It's all about relaxed interaction with each other (again). Putting an end to the feeling of being caged in and locked down.
That is why "Cora Cora Maldives" focuses on grab & go instead of in-villa dining. "Our guests can have their food packed and then enjoy it somewhere on the beach under the palm trees. They want to be outside as much as possible, the y want to feel free. They have been stuck inside for long enough".
Cora Cora Maldives: It's freedom time
No more social distancing. The staff at "Cora Cora Maldives" is extremely approachable, open and relaxed. They don't shy away from a handshake. No more prohibitions, dozens of warning signs or constant hygiene rules. A relief after the incessant fear appeals in good (c)old Germany. And what a contrast to the sometimes excessive culture of prohibition, "German Angst" and exclusion at home.
The only mask you need at "Cora Cora Maldives" is your diving mask. The QR codes are not used for access control, they only point the way to the menus of the restaurants. Those who have decided to go on a digital detox for dinner are thrown off: Menu cards on paper are only available at "Tazäa".
But you can hardly do without a mobile phone anyway: the well-designed smartphone app "Cora Cora Maldives" is used to make all reservations, change bookings, check in and secure your spa treatment.
"Cora Cora Maldives" formerly known as Maamigili
The luxury resort on the lush green island of Maamigili in Raa Atoll started out as "Loama" in early 2015, apparently without the desired success. Only a few years later, the investors from Singapore sold the hardware for 45 million to a japanese investor. Then, everything was "whitewashed" in the true sense of the word.
Heavy, dark wood tones dominated the "Loama" style. The new designers changed the look of the 100 beach and overwater villas as well as the furniture for the "Cora Cora Maldives" to a reduced, airy, cool white. The dark-glazed furniture was sanded down and now comes in an early patinated, bleached natural teak shade. No ethno chichi or driftwood chic. Just pure white and a little blue. Not everyone's taste. But I like it.
The island's nature on the other hand is more colourful. Until 2011, Maamigili was almost completely overgrown. A lot of it continues to grow even after clearing and construction work. Coconut palms, of course, a large banyan tree, frangipani, roses, hibiscus and finifenmaa, the national rose of the Maldives.
All-Inclusive, Premium Edition
Managing Director Martin van der Reijden and his team introduced the premium all-inclusive policy. Without ifs and buts. Visits to the four exquisite restaurants of the "Cora Cora Maldives" are included in the price of the trip. Only the Teppanaki gastro show is extra. But in view of the great nigiri and sashimi creations at, one might think twice about choosing raw fish instead of grilled fish.
A wide selection of good red and white wines from Italy, France, Chile and New Zealand are included, as is the espresso. The later comes fresh from the island's own roastery – also as Chocolate & Cili Roast – and runs from a large La Cimbali.
Diving and snorkelling tours, SPA treatments, sunset cruises and private candelight beach dinners are available for a fee, whereas fins, masks and snorkels can be rented for free, as can kayaks and SUPs. With a package price starting at 3,500 euros for seven days (meaning five nights on the island) in the Beach Villa including flight, this concept is quite a proposition.
Bye, Johnny Walker!
At the bar of the "Acquapazza" high-quality alcoholic beverages instead of the otherwhere usual cheapies as Johnny Walker are available. Laphroig became a valued companion for the bombastic sunsets: this orgy of colour, a good single malt, palm trees rustling above me and flying foxes in bold manoeuvres. The day can pass like this… and Johnny can stay where he is.
And what about the rivals?
How does the "Cora Cora Maldives", whose villas are rather small for a five-star resort, rank among the Maldivian luxury resorts? 20 of the approximately 150 Maldivian resort islands make up the high-end sector. These top luxury resorts, such as "Joali" or "Naladhu Private Island Maldives", take 1,500 to 2,500 euros per night (with breakfast). They have a much smaller number of beds than the "Cora Cora".
About 20 other resorts offer five-star luxury. They charge from 600 to 1,200 euros per night. The "Cora Cora" is one of them. The rest are four- and three-star resorts up to the unspeakable 178-room colossus "Hardrock Maldives".
Yoga, Painting classes, Pool Conundrum
One of the special features of the "Cora Cora Maldives" is a resident DJ. During my stay, the likeable DJ Si'Noir aka Sisi the Dancer from South Africa was at the turntable.
Among the guests from Germany, Austria, Switzerland, Russia, Singapore, Japan and India are some nouveau riche posers with the much-praised gold Rolex and silicone blonde in tow as well as Asian honeymooners shyly flitting past, heavily tattooed bodybuilders and old men with beer bellies. A colourful and cosmopolitan mix.
To me it will always remain a mystery though why so many people hang out in the pool all day long instead of swimming or snorkelling in this wonderful se …
Manta! Manta! Oktopus!
Andrea Timirello, the head of the water sports station on "Cora Cora", and his team offer a pure soul massage on the "Snorkeling Extravaganza" trip: We are swimming with manta rays and are watching a dozen dolphins jumping past us not even 100 metres away. Unforgettable!
Cheers for the "Cora Cora" House Reef
But you don't have to chug out to sea on board of a dhoni for unique underwater moments. The house reef, quickly and easily accessible from the south-eastern end of the island, provides splendidly colourful and species-rich entertainment.
In addition to healthy-looking hard and soft corals, we see surgeonfish, groupers, moon jewelfish, mighty triggerfish, angelfish, elegant halterfish as well as half-moon and leopard triggerfish, longnose fish, the cute anemone fish, boxfish, masked parrotfish, bannerfish, brightly coloured butterflyfish and the elegantly striped oriental sweetlips. If there is enough plankton, even reef manta rays drift through the water at the drop-off of the house reef.
And there are many parrot fish on the house reef. Rasping algae from the corals the process, they swallow small pieces of coral, which they expel undigested as faeces, in the form of fine-grained sand. Each parrotfish produces around 300 kilos of the coveted material per year, the bulky bumphead parrotfish even produces 1,000 kilos of dream beach sand per year. That's up to 40 tonnes in the course of its long life.
But: If you like Standup Paddling as much as I do, you might be al little bit unhappy at "Cora Cora". Only a narrow strip is open for paddlers: "There are nasty currents, which quickly take you to the open ocean". Circumnavigation of the island? Sorry, out of the question. But well, there is still a catamaran and glass-bottom kayaks and surfboards on offer.
"Ginger Moon": My Streetfood Nirwana
Ginger Moon was my favourite restaurant. The female chefs there prepare the best from the kitchens of Thailand, Bali, South Korea, Malaysia and Singapore. Labb Tuba, Kao Pao Pla made of reef fish with chilli and Thai basil, Tom Yum Goong, Laksa, Cumi Cumi Bakar or Crispy Pork Samgyeopsal tasted just great.
Pizza fans flock to the "Acquapazza", where pizzas come out of an oven specially imported from Rome. The team was trained for several days by a pizza maker from Naples, the waitress tells me.
Good morning! Curries, Roshi, Mas Huni
Talking about food. Beside the popular breakfast buffet classics like croissant, fried egg, scrambled eggs and baked beans with bacon, the typical Maldivian breakfast leads a culinary shadowy existence at "Tazäa".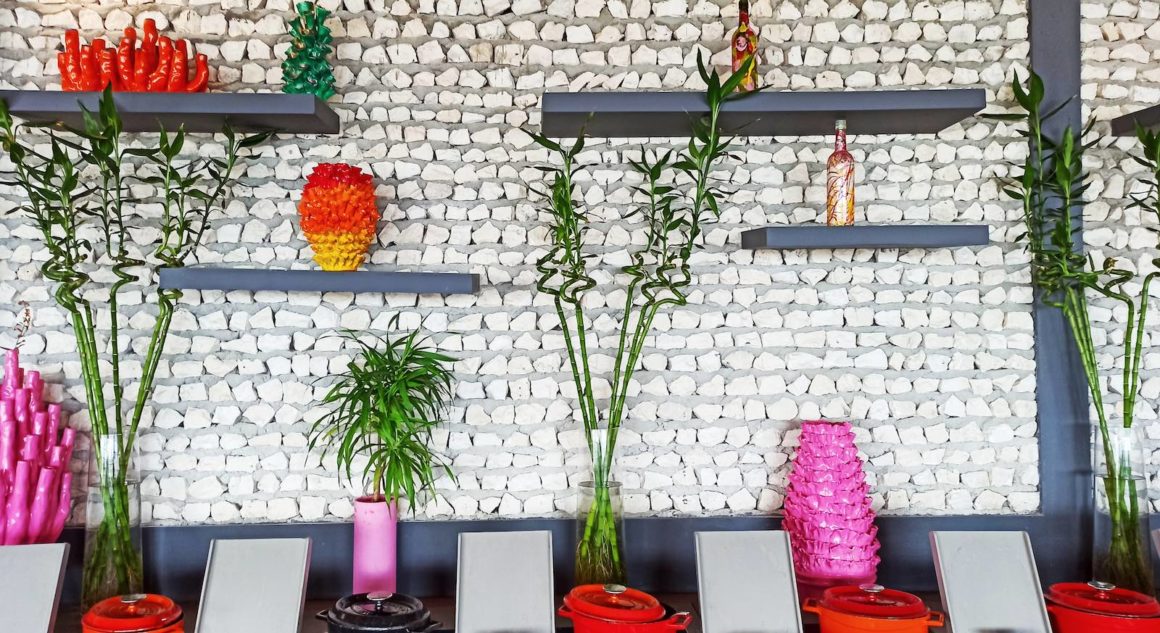 Although: Variations of Mas Huni (made from fresh tuna, onions, chilli and grated coconut), eaten with your fingers using roshi flatbread, taste wonderful. And the spicy fish curries from vibrantly red cast-iron pots make for a wholesome start to the day.
Speaking of wholesome: "Cora Cora Maldives" saves a good 400,000 plastic bottles a year by desalinating seawater, mineralising it and filling it into glass bottles. Unfortunately, it also flows into the pools. In my opinion, seawater would do just as well for swimming.
Qing china, amphorae, buddhist cleansing basins
The exciting thing about "Cora Cora" is that it's not purely a tourist bubble. The island's own museum, The Dutch Onion, and the associated heritage site have been given a lot of space and resources. Wifag shows me around.
He explains that the name of the museum derives from special onion bottles dating back to the 18th century that were excavated on the island. The museum and archives house several hundred exhibits, including 17th century Chinese Qing porcelain found in the excavated amphorae, and a Byzantine oil lamp.
On the heritage site, in addition to the foundations of a mosque, two vevu basins for ritual ablutions dating from the Buddhist era can be seen, which were only uncovered in 2011 and 2019 respectively after clearing. Evidence that Raa Maamigili was inhabited for many centuries until, for unknown reasons, it fell into a 200-year-long snow-white sleep.
Kandholhudhoo aka Tsunami Island
A good 20 minutes boat ride from Raa Maamigili lies a ghost island that was abruptly abandoned by all 3,600 inhabitants in 2004. The island is densely built up to the sea, which even at normal high tide ends only a hand's length below the wall surrounding the entire island. This was its undoing on December 26th 2004. Two tsunami waves completely destroyed it.
"Tsunami Island" is officially called Kandholhudhoo and has – which is as rare as it is inconvenient – no house reef. Fortunately, the 1,500 children and 2,000 adults were able to reach the newly built four-storey school just in time before the "only" 2.20 metre high waves swept everything into the open ocean. Two older women fell victim to the raging tide.
Until the tsunami, the almost treeless Kandholhudhoo was characterised by simple brick houses with tin roofs that headed up in the heat. Now, aggressive mosquitoes, plastic waste, dense greenery, mud and creepers have taken over even the upper floors of the school and the hospital.
Take a 360-degree look around my Lagoon Villa
Two little downsides we found: The snorkeling equipment has to be returned the day before departure. Which measn, that if the Seaplane only leaves in the evening, a whole snorkeling day is lost. If you can, pack your own diving mask and snorkels and enjoy the glorious underwater world till you have to take off. And my four attempts to have the buggy pick me up on time instead of shuffling through the midday heat failed. But hey, in paradise, that´s peanuts.
Check-Box
Who is the "Cora Cora Maldives" best suited for?
---
Families even with very young children
Honeymooner with need for a lot of privacy
Diving and snorkeling lovers
Gourmets with a preference for Asian street food and sushi
Connoisseurs who value control over their spendings
How to get there
With Turkish Airlines from eleven German airports via Istanbul to Malé. Economy tickets from 750 euros, business class ticktes from 2,600 euros. More on turkishairlines.com, several daily flights with Qatar Airways from 715 euros.
Entry formalities
Uncomplicated if you have registered digitally and secured the QR code within 72 hours before the outbound flight and 72 hours before the return flight. Passport and QR codes are sufficient for all travelers. No one asks about vaccination or convalescent status. Random testing can be done, it would be free of charge. Those who test positive spend the necessary quarantine at the resort or at a government quarantine facility.
Veranda of Lagoon Villa in 360 degree panorama
"Cora Cora Maldives"
It is best to book the resort, transfers and flights as a package. Five nights in the Beach Villa (=seven days travel duration) are usually available from 3,000 to 3,800 euros.
coracoraresorts.com/